Perioperative Yoga for Analgesia and Improved Surgical Outcomes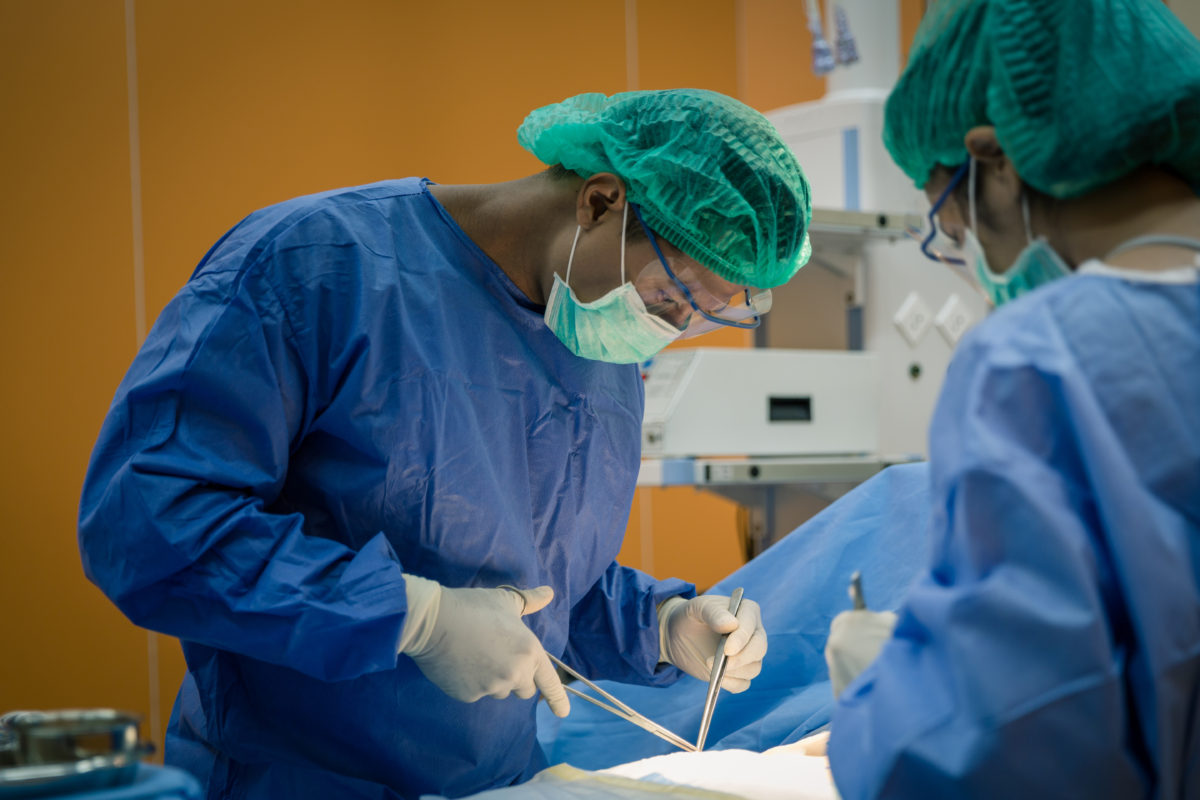 Aside from providing anesthetic drugs, anesthesiology practitioners are often responsible for managing a patient's acute and chronic pain.1 Traditionally, opioid medications have been the go-to for pain management, with millions of pain medication prescriptions written per year for chronic headaches, back pain, surgery recovery, sports injuries or accidents.2 However, opioid drugs are associated with side effects ranging from nausea and constipation to respiratory depression or even death.3 They can also cause physical dependence and addiction, also known as opioid use disorder (OUD).3 Thus, anesthesia providers have turned to other pain management strategies such as physical therapy, acupuncture and local or regional anesthetics.2 Research shows that yoga may be effective in treatment of various chronic pain conditions4 as well as acute pain.5Anesthesia providers can expand their practices by learning about yoga and its role in pain management and surgical outcomes.
Yoga is an ancient practice and way of life rooted in Hindu philosophy.4 It is a spiritual approach that integrates mind and body, and it has become popular in Western culture in the form of stretching, breathing and meditation.4 In the United States, yoga practice typically emphasizes physical postures (asanas), breathing techniques (pranayama) and meditation (dyana).6 Popular yoga styles include iyengar, vinyasa and hatha yoga.6 Yoga may be helpful for improving general wellness by relieving stress, supporting healthy habits, increasing sleep quality and improving mental health.6 Research also suggests that it may relieve menopause symptoms or help people manage situational anxiety or depression, quit smoking, lose weight or manage chronic disease symptoms.6 While large studies have found benefits of yoga for specific populations,7 many studies are low quality or include only small groups.6 While yoga is practiced widely and appears to have promise for improving general health, more research is needed to assess its effects in particular types of health conditions.
Yoga's potential health benefits are relevant to the anesthesia provider, as it may be effective in acute and chronic pain management and improvement of surgical outcomes. In a preliminary study, Williams et al. found that when compared to a control educational program, 16 weeks of Iyengar yoga therapy led to a larger reduction in pain intensity, functional disability and pain medication usage in patients with chronic low back pain.8 Meanwhile, Crow et al.'s systematic review showed strong evidence for short-term effectiveness and little evidence for long-term effectiveness of yoga for chronic back and neck pain.9 In their feasibility study, Sohl et al. found that a yoga skills training program was feasible and provided short-term reductions in pain and distress to women undergoing gynecologic surgery.5 Li et al. found that playing a yoga nidra (i.e., meditation) script during colonoscopy reduced participants' pain.10 Yoga may be effective not only in pain management, but also in stress relief and surgical outcome improvement. As Rao et al. found, yoga decreased state and trait anxiety, depression, symptom severity and distress in breast cancer patients awaiting surgery.11 Additionally, yoga led to improved quality of life measures and prevented immune suppression following surgery.11 Amaravathi et al. found that a long-term yoga-based postoperative cardiac rehabilitation program improved quality of life and reduced stress levels, even five years after coronary artery bypass graft.12 According to Agarwal et al.'s study, yoga reduced postoperative pain and improved outcomes in patients undergoing hemorrhoid surgery.13 Overall, yoga shows promise in pain reduction and surgical outcome improvement across a variety of settings and patient groups.
Anesthesia providers play crucial roles in pain management. Though pain can often be controlled by medications, alternatives such as yoga may be associated with fewer side effects and better overall health benefits. Yoga is an ancient spiritual practice that has taken the form of exercise, breathing and meditation in Western cultures. Yoga has shown potential to improve general physical and mental health, as well as specific outcomes. Evidence shows that yoga may be useful for management of chronic or acute pain or improvement of surgical outcomes. Researchers should aim to develop high-powered, large studies on the uses of yoga in analgesia and perioperative care.
1.American Society of Anesthesiologists. Role of Physician Anesthesiologist. When Seconds Count… Physician Anesthesiologists Save Lives 2020; https://www.asahq.org/whensecondscount/anesthesia-101/role-of-physician-anesthesiologist/.
2.American Society of Anesthesiologists. Non-Opioid Treatment. When Seconds Count… Physician Anesthesiologists Save Lives 2020; https://www.asahq.org/whensecondscount/pain-management/non-opioid-treatment/.
3.Benyamin R, Trescot AM, Datta S, et al. Opioid complications and side effects. Pain Physician. 2008;11(2 Suppl):S105–120.
4.Assistant Secretary for Health (ASH). Draft Report on Pain Management Best Practices: Updates, Gaps, Inconsistencies, and Recommendations. Web: U.S. Department of Health & Human Services;December 28, 2018.
5.Sohl SJ, Avis NE, Stanbery K, Tooze JA, Moormann K, Danhauer SC. Feasibility of a Brief Yoga Intervention for Improving Acute Pain and Distress Post Gynecologic Surgery. International Journal of Yoga Therapy. 2016;26(1):43–47.
6.Belfer I, Shurtleff D. Yoga: What You Need To Know. Health Information May 2019; https://www.nccih.nih.gov/health/yoga-what-you-need-to-know.
7.Sivaramakrishnan D, Fitzsimons C, Kelly P, et al. The effects of yoga compared to active and inactive controls on physical function and health related quality of life in older adults: Systematic review and meta-analysis of randomised controlled trials. International Journal of Behavioral Nutrition and Physical Activity. 2019;16(1):33.
8.Williams KA, Petronis J, Smith D, et al. Effect of Iyengar yoga therapy for chronic low back pain. Pain. 2005;115(1):107–117.
9.Crow EM, Jeannot E, Trewhela A. Effectiveness of Iyengar yoga in treating spinal (back and neck) pain: A systematic review. International Journal of Yoga. 2015;8(1):3–14.
10.Li L, Shu W, Li Z, et al. Using Yoga Nidra Recordings for Pain Management in Patients Undergoing Colonoscopy. Pain Management Nursing. 2019;20(1):39–46.
11.Rao RM, Nagendra HR, Raghuram N, et al. Influence of yoga on mood states, distress, quality of life and immune outcomes in early stage breast cancer patients undergoing surgery. International Journal of Yoga. 2008;1(1):11–20.
12.Amaravathi E, Ramarao NH, Raghuram N, Pradhan B. Yoga-Based Postoperative Cardiac Rehabilitation Program for Improving Quality of Life and Stress Levels: Fifth-Year Follow-up through a Randomized Controlled Trial. International Journal of Yoga. 2018;11(1):44–52.
13.Agarwal BB, Sharma S, Gupta MK, Sarangi R, Mahajan KC. Can Yoga Improve the Outcome of Surgery for Haemorrhoids? A Prospective Randomized Controlled Study. Journal of the International Medical Sciences Academy. 2012;25(1):43–46.